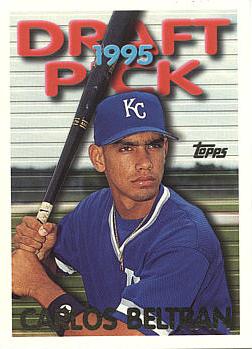 Obviously this could not come at a worse time.  Who would pay Beltran the remaining 37 million on his contract for 2010 and 2011? There may not be a position player on the Mets I like as much as Beltran and he is maybe the best all-around CF in the game.  So why would I consider trading him?  We have so many holes to fill.
As brought up by others on the Morning Thread, at this point the Mets are almost stuck into this:
Murphy, Castillo, Reyes, Wright, Fmart, Beltran, Frenchy, Santos
Johan, Pelfrey, Perez, Niese, Maine/Nieve/Scrub of choice
Krod, Parnell, Nieve, Green, Feliciano, Stokes, new scrub
Guys let me be first to say that is a 4th place team.  That is not going to be enough to beat the Phillies, Braves, or Marlins baring that team going through what we did this season.  We could bring in Halladay by trading all of our prospects and have a pitching first team.  However, adding Halladay and shifting those guys down does not put us cream of the crop.  Also it's clear that the Wilpons will not increase salary enough to buy our way out of the hole.  I am sure they will claim loyalty to Fmart and Murphy but in reality it will be the lack of wanting to trade prospects and the cash it will cost to do so.
So why Beltran?  Why not Wright or Reyes?  First of all Beltran is the oldest and most expensive.  Obviously this will lower his value but his absence in the field could be covered much more than Wright or Reyes as we have no one to take their spots, although Beltran's replacements are not as good they are capable OF.  Beltran would give us options to add players through that trade as well as clearing cash.  Trading Back to who would do it?  I have no idea.  This is where you guys come in…. My example would be Beltran for Loney and Martin, again I am not sure the Dodgers do that trade but it would fill 1B/LF and Catcher with younger cheaper players.
In my opinion candidates would be Dodgers, Red Sox, Yankees, White Sox, Angels, Rangers, Cubs, Giants.
Suggestions, Comments?
Related posts: