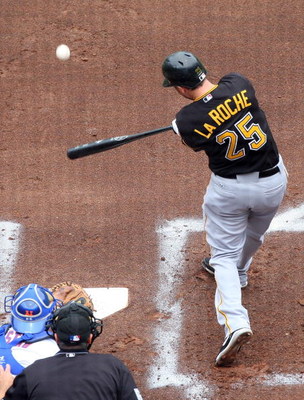 I have no new news to report on the market for Adam LaRoche because I am trying to find one.
These are the only teams I can even find  mentioned in connection with the LH 1B.  The O's, Giants, M's, Braves and Mets.  Lets take a deeper look at these 5 teams needs and the likelihood of a match.
Orioles: The O's are looking for a 1B to replace Huff and committee.  However, according to MLBTR they are more interested in Delgado or other 1 year guys. "They also have interest in first basemen Hank Blalock, Adam LaRoche, Russell Branyan and Chad Tracy, but don't want to offer multi-year deals to any of them. LaRoche is probably the only one of those players with much of a chance at a multi-year contract."  The have Brandon Snyder a 22 year old 1B/3B hom they are still high on in the minors as well as Garrett Adkins who is in my opinion more suited for 1B .  I could see Delgado or Blalock as more of a fit than LaRoche.  At this point I would still rank them #1 in the LaRoche market.
Giants: The Giants seemed like  a logical destination for LaRoche as they were seeking a LH 1B to provide pop to a bad offensive team.  However, with the acquisition of Aubrey Huff they are now in my opinion out of the LaRoche market.
Mariners: The M's were looking for a 1B to replace Branyan.  They were able to dump Bill Hall and bring in Casey Kotchman.  With their increased emphasis on defense over hitting and the use of UZR it looks as though Kotchman will be their starter.  According to UZR he was the 2nd best 1B in the majors last season.  Kotchman will make around 3 million next season and still be arbitration eligible.  In my opinion they are now out of the LaRoche market.
Braves: Hard to be a sleeper team when the player was last seen wearing your uniform.  However, there has been little to no talk about a LaRoche reunion in Atlanta.  The Braves still need offense and have a hole at 1B.  However, they also brought in Troy Glaus who when healthy is a very good offensive player.  I think however, the Braves could stand to have LaRoche at 1B with Glaus taking time at 1B and 3B.  I would put the Braves as #2 in the LaRoche market.
Mets: Omar may be playing this move exactly right, again.  There has been few rumors coming out of the Mets being interested in LaRoche.  However, many higher ups assume that Daniel Murphy will not be the 1B next season.  It appears the Mets camp may indeed be split.  There is the idea of getting a RH to platoon with Murphy, or "upgrading" the position with Delgado (a 1 year guy) or perhaps filling the spot with LaRoche.  I would put the Mets as the #3 with a watchful eye.
With the disappearing market for LaRoche I think the Mets should indeed get involved.  I don't want to start the debate here because it is based on personal opinion (I am sure I will in the comment section)  I believe LaRoche on a 2 year deal would be a good move for the Mets.  LaRoche turned down a rumored 2/17 deal.  However, now LaRoche I am sure wishes that he had taken that deal.  Perhaps at this point he would be willing to take a 1+1 deal for maybe 6 million the first year and 9 the second with a 2 million buy out?  The difference offensively between a healthy Delgado, LaRoche or Murphy swings Delgado's way.  However, we know the healthy part is a gamble at best.  Looking at LaRoche and Murphy…
Related posts: