The 2011 New York Mets coming into last night's game vs the Detroit Tigers have been above .500 all of 3 games this year from April 3, 2011 thru April 6, 2011.
They have been a predominantly sub .500 team and yet they have been more fun to watch this year compared to some of the more recent Mets teams.
While the real test of what this team is made of won't come till August and September where past Mets teams have failed to impress to put it nicely. As we reach the half way point of the season I can only imagine how different would this team be had Terry Collins not been the manager.
You knew when camp opened this year and you saw how Collins handled the Beltran to RF situation that Collins approach may just be something worth watching moving forward.
This is what Sandy Alderson had to say about hiring Collins,
"Terry's a lifelong baseball man who comes with the entire package – leadership, preparation, emotional commitment, and the drive to win, …We believe Terry's knowledge of our players, energy, intelligence, intensity, and direct approach will make an immediate, positive impact both in the clubhouse and on the field."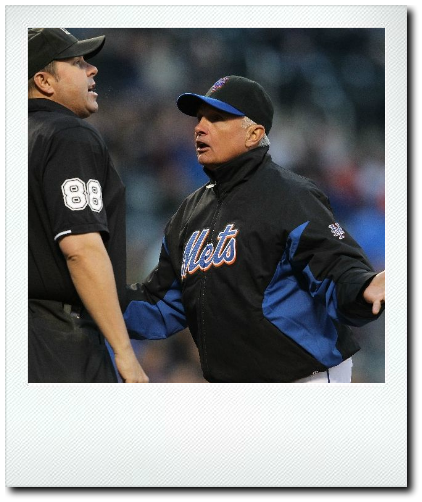 While some wanted Backman to be named manager and a few even went so far as to suspect that Collins was just a yes-man for this new front office. It's hard to argue that Alderson's words of leadership, emotional commitment, and the drive to win along with intensity, and direct approach in describing Collins have not been accurate and a positive impact up to now.
Some recognition should go to former Mets GM Omar Minaya for bringing Collins into the organization a little over a year ago to control his farm system. Had he not done so Collins may have never gotten the opportunity to be the Mets manager.
Still in the end it was current GM Sandy Alderson who decided to hire Collins as manager over the finalists of Wally Backman, Chip Hale, and Bob Melvin. In what may turn out to be Alderson's best decision of the off season.
So here we are with a team that with no Santana no Wright no Davis no Bay (yeah that's right) a 5-13 start and fighting uphill all season just to get past .500 and yet it's a team that I've enjoyed more than recent past teams.
Why?
I would have to say that this team when you take into account all that's happened has played above expectations while some of the past Mets teams (2007-2008 in particular) were frustrating because they played to what i felt was below expectations.
Personally my opinion was these Mets would be about an 80 win team and this was before the injuries yet to my pleasant surprise despite the losses they have endured they have fought (fought being the keyword) to get to where they are now at 40-39. A better record than I would of thought all things considered. In my opinion I credit Collin's leadership, emotional commitment, and the drive to win along with his intensity and direct approach in helping these Mets get where they are at this time.
I know that a manager accounts for only so much and that it's about having talent that will be what really turns this team around. Still it's refreshing to see how this team has started to take on the personality of it's manager. How far does that get them? Who Knows. Check back in 3 years and I will let you know. For now I am just going to enjoy the ride and see where it takes me.
Related posts: