Back in August of 2009 when "Real Dirty Mets" was still called "The Real Dirty Mets Blog" and the Mets were in the midst of one of the worst seasons ever. I used to do a Sunday Mets News Front Page.
Volume 13 of that TRDMB Front Page posted on August 9, 2009 was titled "Eight Is Enough?" In it I asked the question do the Mets have enough to win a World Series with Carlos Beltran, Jose Reyes, David Wright, Johan Santana, Francisco Rodriguez, Oliver Perez, Jeff Francoeur and Mike Pelfrey?
Clearly the answer now is no.
Since that date gone are Jeff Francoeur, Oliver Perez and Francisco Rodriguez with the real possibility that Beltran will be next to leave and never to wear a Mets uniform again. Add the unknown that is will the Mets and Reyes be able to come to a an agreement when Reyes goes free agent this coming off season? You can quite possibly see 5 of those 8 gone by Opening Day 2012.
The question I pose to you is for the sake of this conversation let's assume Beltran definitely is gone (which by many accounts is almost a certainty) and the Mets do sign Reyes. From the remaining group of Wright, Santana and Pelfrey which one of those 3 do you think would be the next to go be it via trade or free agency?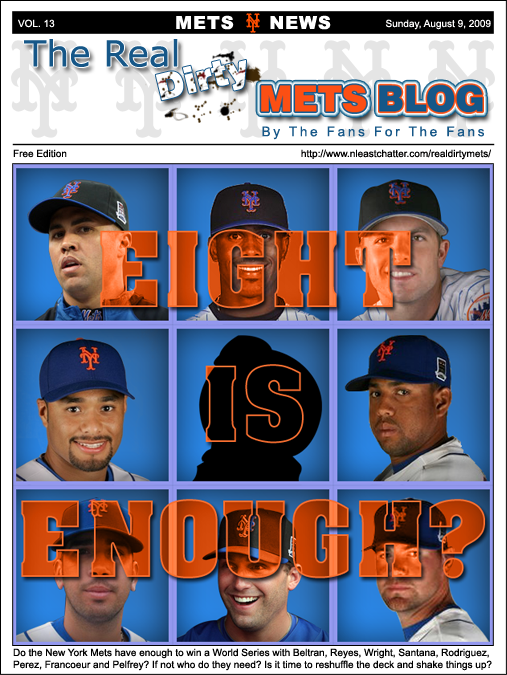 You can view more RDM graphics here.
Related posts: