This season, one that will likely end with the Mets cleaning out their lockers after an October 2nd game against the Marlins, the main purpose of the Mets fielding a team for 162 games should be, and will be, to develop a team that will become a consistent, fundamentally sound team down the road that can win ballgames and possibly make a few deep runs into late October. Every team that isn't willing to give up an arm and a leg for a superstar must go through a period where they flush out and start over. This year, the Mets will begin the process of starting over.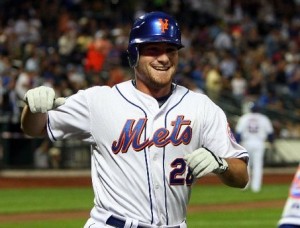 Last season, clouded by mysterious financial troubles, as well as some bad contracts, the Mets were stuck. There was little flexibility for Sandy Alderson, who was basically told to wait out the storm of the century. Well, the storm has passed. Carlos Beltran is gone. Francisco Rodriguez is gone. Oliver Perez is gone. And most importantly, the financial troubles are behind the Mets. There are no excuses from this point forward.Terry Collins may never admit what the true purpose of this season is. He may say it's to win games and make a playoff push, but this season is bigger than that. Big picture, this year will be crucial for quite a few players in the Met organization. They have quite a few young players who will get major playing time this season, including Jon Niese, Dillon Gee, Ruben Tejada, Daniel Murphy, Lucas Duda, Ike Davis, and Josh Thole. I feel like I named half the team right there. This team is clearly built around youth, and should be treated as such.The best part of being a bad team with youth is the lack of pressure. There may be some for David Wright and Johan Santana, but for the rest of the players on the roster, this season will and should be a great opportunity to hone their skills and prepare for the future. That's the real beauty of this whole situation, and one of the positives we should take out of this as fans. In the Yankee organization, players have to learn on the fly. Often times, the pressure gets to them and it doesn't work out.What I'm really hoping this season is that Terry Collins and Sandy Alderson don't put together another haphazard, quick fix to make the Mets a "playoff contender." There will be no use for that. What the Mets need to do is get their "youngins" in and let them play. In order to improve, players like Daniel Murphy and Ruben Tejada have to get playing time at the big league level. There are going to be struggles. There are going to be long losing streaks. But if the Mets stick with the plan and be patient, it will all be worthwhile. There is no use delaying the growing pains that come with a young team. Just get it all done at once. Play Tejada, Murphy, Duda, Tole, etc. If the Mets can get them on the field, and get those growing pains and losing streaks out of the way, they will have a very bright future to look forward to in the years to come.
Also at Up AlongFirst.