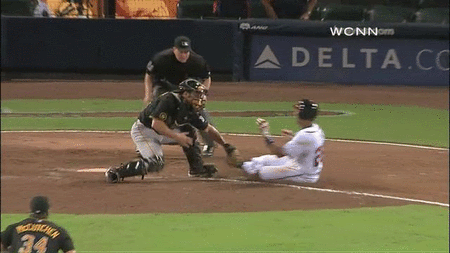 Last night home-plate umpire Jerry Meals made a controversial ruling that in the 19-inning Pirates catcher Michael McKenry missed Julio Lugo as he slid toward the plate. It gave the Braves a 4-3 win. Many say it was a blown call. After the game Meals would only go so far as to say he "might" have missed the call. This was his explanation of what he saw.
"I saw the tag, but he looked like he oléd him and I called him safe for that," Meals said. "I looked at the replays and it appeared he might have got him on the shin area. I'm guessing he might have got him, but when I was out there when it happened, I didn't see a tag."I just saw the glove sweep up. I didn't see the glove hit his leg."
What do you think? Was he safe or out?